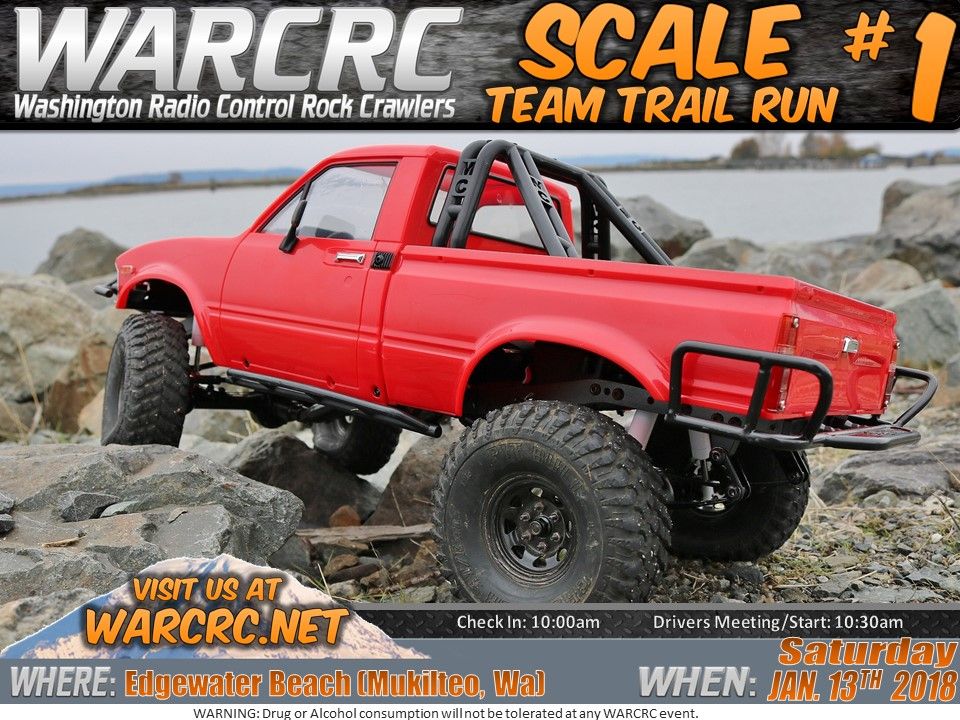 Start Time: 10am
Edgewater Beach (Mukilteo, Wa)
LOCATION INFO>>>
http://warcrc.net/forum/showthread.php?t=13407
WARCRC created the "Team Trail Run" event in 2010, the main objective of the event is to have minimal rules, maximize the fun/drivetime and be somewhat rule free. Please view full guidelines below. The goal is to drive through all the gates in the lowest time as possible with your team and make it to the end of the course but remembering to count how many gates your team has hit.
We also do SORRCA ruled events named "Scale Competitions" where there is a CLASS ONE, CLASS TWO, CLASS THREE but at these TTR's events you can really run any scale trucks you want, like an Axial SCX10, RC4WD TF2, Traxxas TRX-4. SORRCA Class One and Class Two trucks are "preferred" at TTR events but C3 rigs can run but the gate widths will be more designed for Class One and Class Two trucks. No SORRCA scale points are calculated at these TTR events.
View event there here>>>
https://www.facebook.com/events/726702024193354/
View TTR (Team Trail Run) info here>>>
http://warcrc.net/forum/showthread.php?t=10762
View Location info here>>>
http://warcrc.net/forum/showthread.php?t=13407
The Teams will be picked randomly at the drivers meetings. Depending on the amount of people, Teams are 2-4 people. It is highly suggested to bring a tow rope, just pulling people is a lot faster than winching. The course will be up to 40 gates long and roughly take about 30-90mins to complete…depending your teams. After the teams are figured out, each will be given a stop watch to record their time. A team will start every 10mins or so, to not clog up the trail.
***Guidelines***
There are only two things you will have to keep track of…1# "TIME and "How many gates your team hits".
If a gate is hit by one truck, it needs to be recorded and it is still live for the rest of the team.
All trucks must progress the current gate to move on to the next gate. (i.e. You wouldn't leave a buddy in the woods, would ya?)
No touching your truck unless for winching or doing repairs.
Repairs are allowed but the truck has to stay at the location it broke, the truck can be winched over to work on drivelines and etc (i.e. if the truck is moved, the team is eliminated).
Winching and towing other trucks is allowed (Absolutely no "hand of god" allowed).