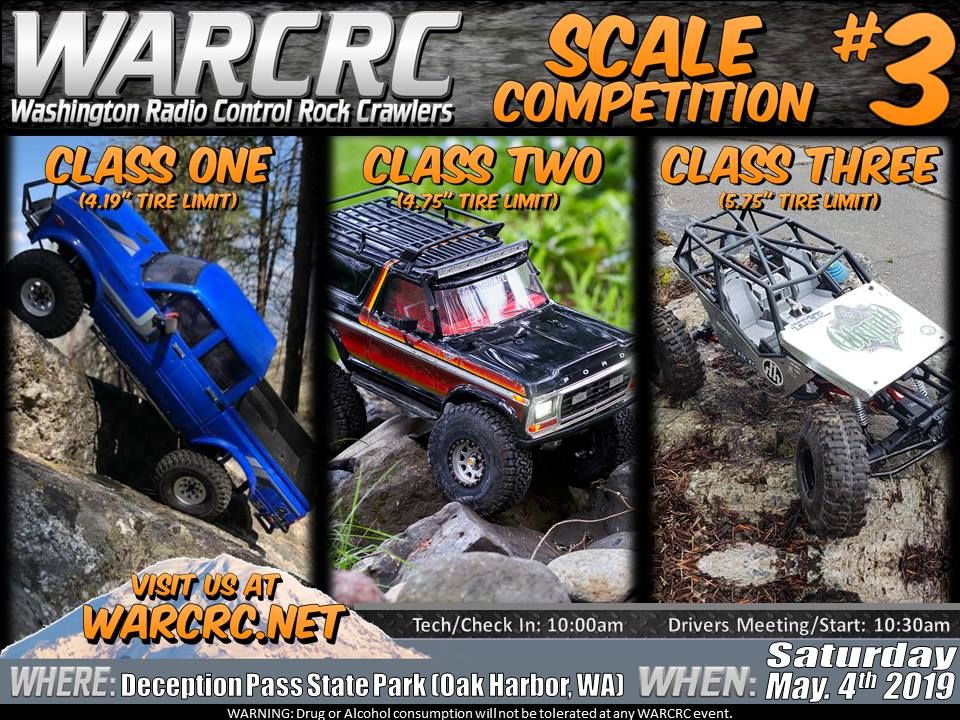 Event is FREE, kids and families welcome! You will have to bring your own RC vehicle to compete, we unfortunately don't have any loaner trucks at this time. A Discovery Pass is required for this location, note you can buy a pass at the entrance.
.
GOOGLE/MAPS LINK
https://goo.gl/maps/AcNnpGPTLeiMUknf6
.
Sign In/Tech: 10:00am
Drivers Meeting/Start: 10:30am
.
We hope you can make it out to WARCRC "Scale Competition # 2 at Deception Pass State Park.... Unlike the "Scale Trail Run" (One long course per Class) events we alternate every month, during these "Scale Competition" events each of the three classes(C1/C2/C3) run through two courses with a 10min time limit each. Our WARCRC "Scale Comp" courses follow all the SORRCA course penalties unlike the "Scale Trail Runs" in which we only penalize for gates and roll overs. If your new to the scale scene, the "Scale Trail Runs" are a great way to learn how courses run but don't get us wrong.... these regular "Scale Comps" are tons of fun too....just a bit more rules/penalties but very fun.
.
We run three different classes…CLASS ONE: 4.19" max tires, CLASS TWO: 4.75" max tires and CLASS THREE: 5.75" max tires. It might sound confusing which class your truck falls under but you can either come check out our forum (
www.WARCRC.net
) or come to a scale comp to help determine which class your truck falls under. We don't turn anyone away, come join in on the fun.
.
FORUM EVENT LINK
TBD
.
LOCATION INFO
http://www.warcrc.net/forum/showthread.php?t=10859
.
LAT/LON>>>
48.397608, -122.660609
.
We run SORRCA Rules, link to SORRCA Rules:
.
http://warcrc.net/forum/showthread.php?t=13431
http://sorrca.com/
.
WARCRC has been running a "Scale" truck series in Washington since 2007. Scale trucks refer to RC vehicles such as a Tamiya Hilux, Tamiya CR01, Axial SCX10 and Axial Wraith.
.
We have Scale Comps from as NORTH as Cap Sante Park (Anacortes, WA), as SOUTH as Lucia Falls (Battleground, Wa) and as EAST as Lake Keechelus (Snoqualmie, WA).
.
Come check us out, we are all more than happy to show new comers the ropes and help them out. Hope to see you there!