http://i80.photobucket.com/albums/j1...STUFF/ttc2.jpg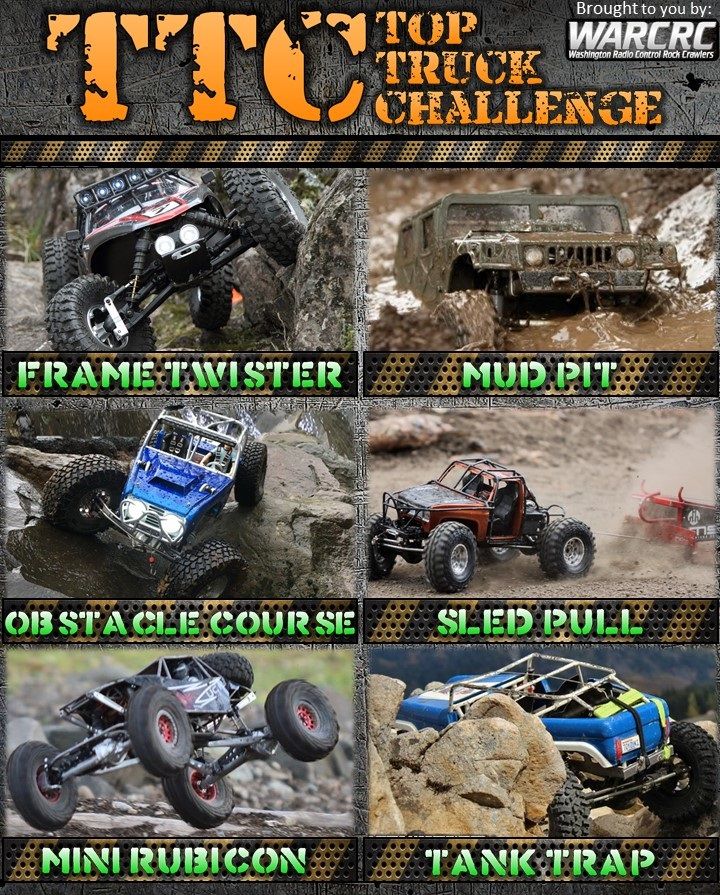 All trucks must follow Current
www.SORRCA.com
Scale rules, but no scale points will be awarded. 40 scale points are required.
A TTC truck needs to be a C1 or C2 or C3 truck. View SORRCA rules at>>>
http://sorrca.com/rules.php
1.
Competitors will receive points based on their finish time or distance on each course. First place on each course will receive 10 points, last place 1 point.(Depends on how many trucks will run in a event).
2.
All scoring will go by time first. If competitors don't finish the course, they will be scored on distance covered.
3.
If you roll your vehicle, you must right it with your own winch. No winching off shoes, and anchor points will be provided. Time will continue as you do this. Each course will have a time limit.
4.
Hitting marker cones on the course will add 30 seconds (for each cone) to your time.
5.
Going out of bounds will end your run, and your distance will be marked at that point.
6.
No outside winching or strapping will be allowed. If your winch quits on a course, you may replace it after your run, before you start your next course.
7.
No modifications can be made during the competition. No tire/motor/gearing/shock/adding weight/etc changes will be allowed. You may change your battery to any battery during the competition. Batteries must be concealed and cannot be strapped to the outside of the vehicle.
8.
Run order for each course will be decided ahead of time. There will be a sheet printed out and posted that shows the run order for each course. You must be ready and waiting when it's your turn to run, anyone not ready to go within 30 seconds of when their name is called will receive a 0 for the course.
9.
Free reverses!!!
Course Info...
Frame Twister (6min time limit)
Obstacle (6min time limit)
Mini Rubicon (6min time limit)
Mud Pit (6min time limit)
Sled Pull (Longest pull)
Tank Trap (6min time limit)
(I would like to give a shout out to Tim "Warpig" for writing up most of this info. I wanted to follow as close to the Scale National TTC events rules as possible.)